Have you ever sent a file to a color printer, and upon reviewing the printed copy you notice the colors do not match what you have on your screen?  This is not an unusual occurrence, and unless you have taken the time to calibrate the color from your scanner, monitor, printer and each different type of printed media, it may very well be the norm.
It takes time and effort to ensure accurate color.  We profile each type of media that we use, because our customers deserve to get their signs in the colors they expect.
RGB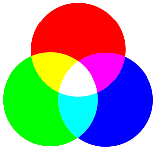 At Front Range Vital Signs, we utilize some of the best color management equipment in the industry to ensure that all of our scanners, monitors, printers and each type of media are calibrated optimally.  What you see on our screen is as close of a match as possible to what you will see on any of our printed media.
All printers use the CMYK color scheme. As you can see above, that allows for less colors then RGB (used  on your monitor). Without accurate color management, RGB colors will not be mapped to CMYK the most efficiently.
CMYK